Pressure washing a deck or your home exterior seems to be a simple task. You just need to point the pressure washer towards the area and shoot. But it involves much more than just cleaning with water using power washing technology.
Not having the proper knowledge or equipment can turn out to be a costly affair and can even cause irreparable damage to the deck. Choosing the correct power washer and the right amount of pressure plays a crucial role in determining the outcome of pressure washing a deck.
To handle such tasks better it is recommended to seek help from professional Princeton Painters who are qualified and experienced to carry out such work with efficiency and effectiveness.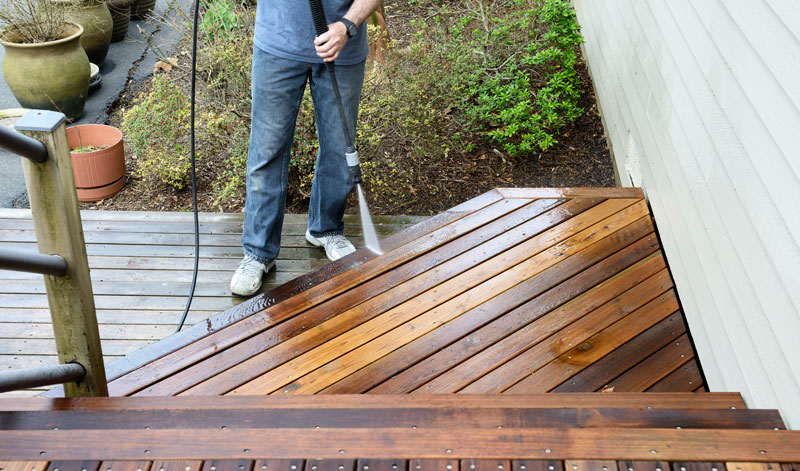 Image Credit: iStock/EJ-J
Which Type Of Pressure Washer Is Suitable?
For cleaning a deck or exterior of your home, both electric and gas-powered pressure washers can be used. But both these equipment are suitable for different surfaces and needs to be applied with precision and perfection to ensure the best cleaning result.
Electric Pressure Washer
Usually run at 1000 to 2000 Pounds per square inch and has a lower PSI than gas washers.
Needs a plugin point which makes it necessary to protect the cord from getting wet.
These are compatible with only specific extension cords.
They are suitable for smaller and lighter jobs like cleaning decks and patio furniture or soft wood.
Gas Pressure Washer
Run at a higher pound per square inch of 2000 to 3000 PSI.
These require fuel for operating and running the engine.
Run loud enough to need ear protection.
These are suitable for heavier jobs like cement, stripping paint, and hardwood.
The Estimated Cost Of Exterior Pressure Washing
The cost of pressure washing a deck or a home exterior for painting or restaining in Montgomery varies depending on a number of factors like the surface on which such service is to be carried out, the material and labor cost in the area where such service is rendered, the size of the deck and many more.
To provide potential users with an estimated cost of washing a deck the cost breakdown for an American deck made from wood or wood composite and 300 sq. ft. in size has been considered.
Labor Cost: The approximate cost of pressure washing decks by professional contractors in New Jersey ranges between $60 and $100 per hour. Therefore, a deck of less than 500 sq. ft. will take about 2 hours to complete costing about $200.
Material Cost: Wood restoration products, solvent for removal of mold and mildew and sealant are the commonly required materials. All these taken together will cost around $70 to $80 for a 300 sq. ft. deck.
Water Cost: A professional pressure washer uses around 15 gallons of water per minute requiring almost 1,000 gallons of water for cleaning a 300 sq. ft. deck. This will cost a mere $1.50.
Improvement Cost: Using wood stain for improving the appearance of the deck, enhancing the outdoor space, and other improvement measures can cost around $150 to $300 depending on the enhancement measures undertaken.
Some Basic Power Washing Tips
While professional service providers are fully aware of the safety rules for power washing a deck or a home exterior there are few basic tips that needs to be kept in mind if you are planning to do the work yourself.
Initially start with a pressure of 550 to 600 psi and then gradually increase the pressure. Test the pressure effect on an insignificant surface and then apply it to the specific area.
Place the trigger a couple of feet away from the surface and lower the wand to about 12 inches above the specific area to be pressure-washed.
Follow a sweeping motion while cleaning and try to maintain a consistent pattern. This will help to clean the surface with equal pressure.
If not properly used, pressure washers can damage the skin. Therefore, it is necessary to wear thick and tight clothing. Loose clothing run the risk of getting pulled into the stream.
Work with the grain of the deck to ensure that there are no hotspots or visible cleaning edges.
Use eye protection by using safety glasses to prevent any loose particle or dirt from entering your eyes.
Keep children and pet away from the cleaning area to avoid any kind of accident.
These are some simple yet mandatory tips that need to be followed with precision to ensure proper cleaning. However, to avoid any kind of complications or mistakes during the cleaning process, it is better to conduct such a task under the supervision of an expert professional.

Image Credit: Jacksonlacy.me
A Final Word of Advice
Once the surface has been pressure-washed, it needs to be left for drying for 24 to 48 hours before staining or sealing. Applying any coating after that will provide a more natural outlook to the surface. It is suggested to pressure wash decks and exterior home surfaces every two to three years to increase its longevity.